Day Trading Coach – Become a Pro in 8 Weeks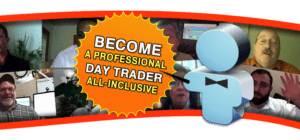 A day trading coach is an excellent way to expedite the learning process normally associated with becoming a professional trader. Without expert help, one can find himself giving the markets far too much money, too quickly. Instead, a measured approach under the guidance of an instructor is a better idea. The next Group Mentorship class from DayTradeToWin.com begins May 30, 2017. Read more about the Mentorship Program and sign up here.
Day Trade to Win's Mentorship Program provides traders with a complete environment for practicing and learning the art of trading. There are many vendors out there that promise to show valuable strategies. In reality, the classes are designed to show you very little and wanting more. Rest assured that John Paul, lead trading coach, actually teaches rules for placing trades.
Firstly, you are taught to recognize whether a trade actually exists. This is usually a specific pattern of candles on the chart (all methods are based on price action). Next, once a trader is confirmed, check if the market is tradeable. This could be as simple as checking the ATR (Average True Range) value to see if it's within one to four points. You may also check against other strategies for additional confirmation.
Once a trade is confirmed valid, it's a matter of deciding the profit target and stop loss. The profit target is also calculated using the ATR. This keeps the profit within a reasonable level of what the market may actually achieve. The stop loss, too, uses the ATR. At first, double the ATR defines the catastrophic stop. In most cases, a smaller stop is hit first, such as the time-based or one that's unique to the strategy you're trading.
In total, you'll learn about 10 different price action strategies over the course of eight weeks. All of the courses and software are provided. This includes the ATO (At the Open), Price Action Scalping, Trade Scalper, Atlas Line, Roadmap, Blueprint, Yo-Yo, Stair Step, ABC, and much more. Training is twice a week. Each class is an hour long. Remote support is provided to assist with installation.
Day Trading Coach – Group vs. Individual Mentorship
Group is with other traders, not one-on-one, so it goes at the pace of the class; not so much the individual. If you want individualized attention, Individual Mentorship may be a better fit.
Group is at specific times. Like Individual, if you miss a class, you can replay it. If your availability changes regularly, Individual Mentorship may suit better.
Questions can only be typed in the live Group training room – there's no VOIP or microphone chat. If you prefer talking directly with the day trading coach, Individual Mentorship is the best option.