Memorial Day Trading Holiday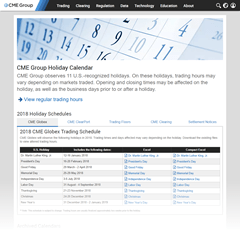 On Monday, May 28 (Memorial Day), expect the E-mini S&P and other CME products to halt early at 1 p.m. ET and reopen at 6 p.m. ET. This five-hour closure is detailed on CME's page here. Expect an early trading halt for the CME's equity, interest rate, FX, NYMEX & COMEX products. Note that the CME often uses CT (Central Time), so keep this in mind when thinking about your time zone.
Beyond Memorial Day
What's the next trading holiday? July 4, 2018 (Independence Day). We will post more about this holiday soon. Beyond that, we have Thanksgiving and Christmas.
Friday, May 25 may be a slow trading day, as can happen the Friday before a three-day weekend. With the market moving fast lately, maybe this will be a nice break.