Independence Day 2018 – Trading Holiday Hours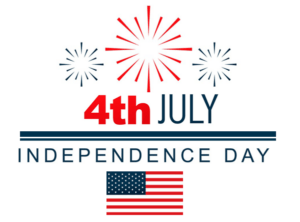 Wow, we're more than halfway through 2018! That means it's summertime and we need to stay aware of the unexpected market activity. At least we can plan around Independence Day, which is July 4, 2018. This U.S. federal holiday is the anniversary of U.S. independence from Great Britain. Back on July 4, 1776, the colonies produced the Declaration of Independence, so the holiday celebrates the birth of the country, essentially. Who thought you'd learn about history from a trading blog?
Because July 4 is a federal holiday, expect market hours to be different. For your reading pleasure, we've consolidated the important changes from the CME. You're encouraged to still look at the official CME page and the Excel files explaining the differences. The consolidated versions are the easiest to read, though the format can still be a bit difficult to read. If you trade commodities like grains, dairy, etc. read the CME's spreadsheets. We don't cover that here because most of our traders are interested in futures (like the E-mini S&P).
Here are the hours:
Tuesday, July 3, 2018: Equity and Bitcoin markets close early at 1:15 p.m. EDT (UTC-4). Forex, interest rate, energy, metal, and DME markets will be open normal hours.
Wednesday, July 4, 2018: Equity, forex, bitcoin, interest rate, energy, metals, and DME markets halt at 1:00 p.m. EDT (UTC-4) and reopen at 6:00 p.m. EDT (UTC-4).
Beyond Independence Day
Market hours should be normal the rest of the week. The next trading holiday is Labor Day in early September.
Speaking of Independence Day, do you want to become an independent trader? We often hear that people are subscribed to trading rooms and fear that when they shut down, they won't be able to find trades themselves. We teach people just like you how to do it yourself. The best way to learn is our eight-week Mentorship Program. Get all the details here and sign up for the upcoming July 2, 2018 class. We teach and include everything with lifetime licenses – it's a good deal!