E-mini Thanksgiving Trading Hours (CME Equities)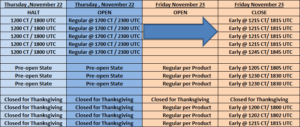 What are the Thanksgiving trading hours? As you may know, Thanksgiving Day, November 22, 2018, is a major U.S. holiday. Expect the markets to close early. We trade the E-mini S&P, which is a CME (Chicago Mercantile Exchange) equity product. See the official calendar information from CME's website. The compact Excel file is probably the easiest to navigate, though there is no need as we have summarized the holiday market hours as follows. If you trade other markets, it is best to refer to the full CME calendar or your exchange's calendar (whatever that may be for the markets you trade).
For CME equity products:
Nov. 21, 2018: normal market hours
Nov. 22, 2018 (Thanksgiving Day): early close (halt) at 1:00 p.m. ET (13:00 GMT-5). Markets reopen at 6:00 p.m. ET (18:00 GMT-5).
Nov. 23, 2018 (Black Friday): early close at 1:15 p.m. ET (13:15 GMT-5).
Be careful trading around holidays. Markets can become slow on early closure days or behave more erratically than usual. Some of the big players and trading systems may not be trading. Use the ATR (Average True Range) with a period value of four to compare volatility levels with non-holiday conditions.
Retailers & Tech Stocks
Black Friday (Nov. 23, 2018) and Cyber Monday (Nov. 26, 2018) are arguably the two largest shopping days of the year, as they symbolize the start of the holiday shopping season. Analysts will be looking at product and company performance. Expect reports to come out that will sway market direction. This is the final quarter of 2018, after all. This year is especially interesting, as many news outlets have talked about poorer market performance from major tech companies. For example, look at how Apple's stock price dropped Nov. 19, 2018. Will holiday shopping provide a lift?
Rollover Reminder
As a reminder, Dec. 13, 2018 is the CME's equity index roll date, so make a note to do a rollover in NinjaTrader on that date or soon after. Of course, later in the month, the markets will close for Christmas.