2019 Trading: Will Markets Continue to Rise?
Don't fall in love with the short side! Yes, since late September in 2018, the E-mini S&P has seen a fair share of bearish activity. Easily, you could have found yourself looking only for short opportunities. Certainly, you would have had many short trades. December of 2018 was one of the biggest market downturns in recent memory. Let's see what 2019 trading has in store for us.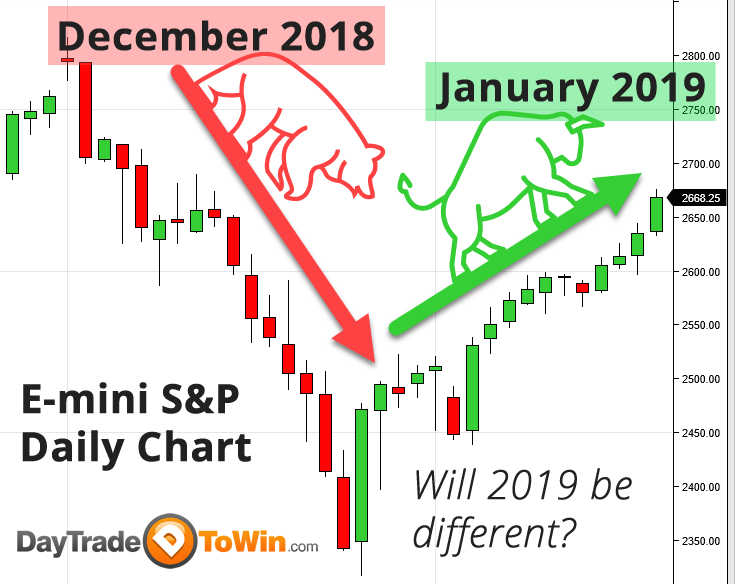 However, since the start of 2019, we have seen the market reverse. Is it time to think differently? So many traders want to know. Approach every day as a new day. It's difficult to determine whether price will continue to rise or if this is all just temporary. After all, the U.S. federal government is still shut down. The new year promises further political upheavals.
Over the years, one thing has stood out – it seems that the traders who do well are those that are quick to recognize opportunity and are not afraid to go against the grain. People who do not follow the majority (i.e. AI, algorithms, big players, and fellow retail traders) may fare better because they are not tricked into manipulation caused by AI trading systems and big players. These market movers can react quickly because of their fast connections and responsive algorithms. If you distance your 2019 trading style from the sheep-like behavior of the average trader and even commonalities among algorithms, you may find yourself in a winning position.
If you want to change your approach for 2019 trading, take a look at the various trading courses from DayTradeToWin. Rumor has it that an entirely new system is being secretly developed, but you didn't hear that from us!