Trading Halt on Martin Luther King Jr. Day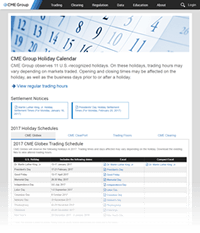 Plan on trading Monday, January 16? Better be careful of the trading halt – many of the CME markets will halt on Jan. 16 at 1:00 p.m. US/Eastern and resume at 6:00 p.m US/Eastern. January 16 is Martin Luther King Jr. Day, a federal holiday. Normal trading hours will occur on the surrounding days. The next trading-related holiday occurs in the middle of February – President's Day.
Here's a link to the official CME statement. Note that the CME has adopted a more complicated spreadsheet format. Hopefully, they will go back to using PDF announcements. Remember that you can post a comment if you have any questions about trading holidays or have general trading questions.